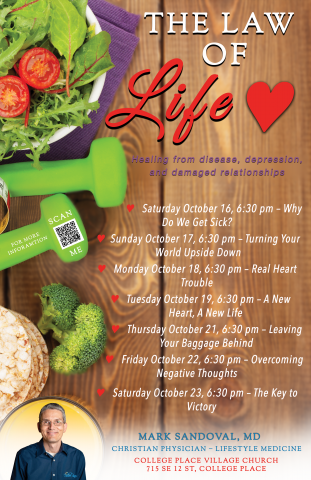 The Law of Life Seminar 
Reversing Disease, Depression & Damaged Relationships 
With Mark Sandoval, MD
Many of us are caught in a seemingly endless cycle of physical, spiritual, and social dysfunction. Do you want to learn why you are caught in that cycle and what you can do to get out of it? Join us as Dr. Mark Sandoval opens our eyes to a new paradigm of wholistic health—a paradigm that connects you to the Power that can set you free.  
**Dr. Mark Sandoval will be offering coaching and counseling during the week, be sure to sign up at Seminar.**
Dr. Mark Sandoval obtained his doctorate in medicine (MD) from Loma Linda University School of
Medicine and subsequently obtained his board certification in Emergency Medicine and Lifestyle
Medicine. While a missionary physician in Trinidad & Tobago, God gave him a passion for health
education. He became involved in radio and TV health programming, development of health literature,
and organizing health outreach around the island.

Since 2012, he has served as physician, medical director, and president of Uchee Pines Institute, in Seale,
Alabama. And since October 2017, he has served as Director of the Health Ministries Department of the
Gulf States Conference. He has also started a new counseling/health ministry called New Paradigm
Ministries. He directs health education and promotion across Alabama, Mississippi, and the Florida
panhandle, as well as travels nationally and internationally sharing God's messages of health and healing
with the world. He is the father of seven wonderful children, husband of one amazing wife, and adopted
son of the God of love.