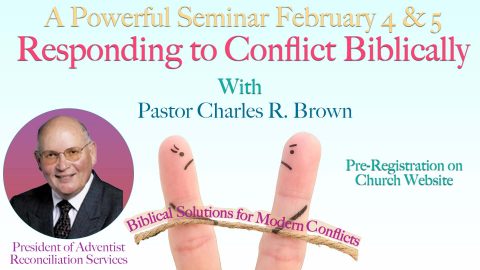 Registration Form
                                                              A Powerful Seminar!
This seminar will help you work through conflict in your life by using biblical principles. The material is applicable to the family, the workplace, the community and the church.
In Responding to Conflict Biblically you will learn:
~The scope of responses in conflict
~How to turn conflict into opportunity
~When and how to confront someone
~When and how to involve other people
~ Advantages of conciliation, mediation and arbitration

Location: College Place Village SDA Church
February 4, 6:30-8:30 pm
February 5, 2:30 –6:30 pm

About the presenter:
Elder Charles R. Brown is founder and president of Adventist Reconciliation Services in Canby, Oregon. He travels widely teaching conflict resolution and doing mediation and arbitration. Charles served as a pastor in Washington and Oregon and Ministerial Di-rector in British Columbia Conference before beginning this special ministry.