Sabbath Worship Services
​8:15 | No First Service at this time
9:30 | Sabbath School
9:30 | Young Adult Ministry
9:15-9:50 — Joint Sabbath School meeting in the Sanctuary
9:50 | — Classes meet in their respective classrooms (see map for details)
Sabbath Worship Service
---
Children, Youth, and Young Adult Sabbath School Classes
Kindergarten, Primary, Young Adults, Youth, Early-Teens, and Juniors meet at 9:30 a.m.
Prefer an online alternative?        
Are you looking for more activities to do with your children? For worship, for play?  Find a great list of ideas here;   https://www.uccsda.org/Child 
Classroom Map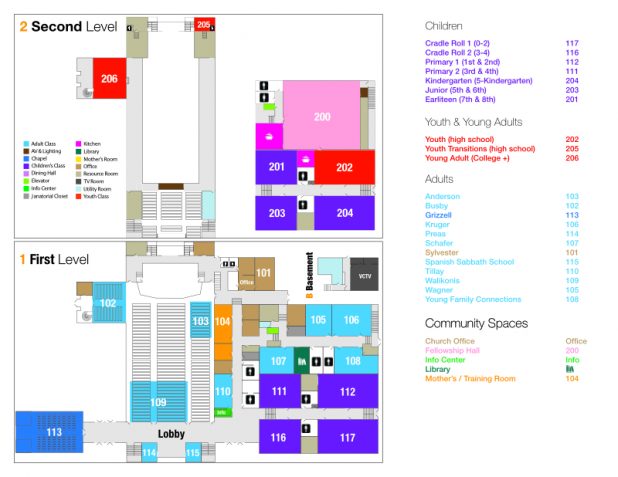 What is worship?
Worship is more than a weekend event, or an hour of prayer and singing. Worship is more than a message from the pulpit. Worship encompasses and incorporates every aspect of the life of the believer. Several times a week our members get together for a period of corporate worship including prayer, singing, group Bible study and Bible centered messages from our pastors and other spiritual leaders. Children, youth and adults are all included and engaged in Village Church worship experiences. 
The Seventh-day Adventist church follows the biblical command to honor the Sabbath day and keep it holy. As part of our Sabbath observance we meet together on Sabbath mornings for corporate worship. Worship in the Adventist church recognizes the following aspects and contexts of worship: 
Worship first acknowledges God—that He exists, and that He is our Creator and Lord. Since worship is an adoration of God, all that we do is related to worship. 

We dedicate ourselves to God. This includes statements of dedication, and prayers and songs of submission and humility, but it is only in our life that we demonstrate these statements of faith and surrender. The gifts of the Spirit, given to all believers for the benefit of the church and evangelism (1 Corinthians 14), are the result of the human response to our surrender to God. 

Worship is personal and also communal. Even in the corporate worship the personal element is always present. Some aspects of worship can only be accomplished as a corporate body as illustrated throughout the Old and New Testament stories and even in the example of Jesus' participation in public worship services. Worship fails to reach its ideal in willful, continued isolation from fellow believers. 

Early Christian worship consisted of reading scripture, preaching, prayer, singing, the Lord's supper, and gifts of tithe and offering (Acts 2:42, 46, 20:7, 1 Cor 16:1-3).